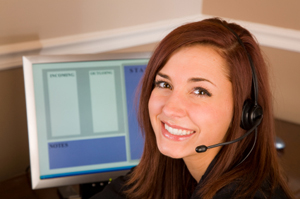 We look for many qualities in the individuals we hire -- the ability to communicate effectively, a high level of organization, strong interpersonal skills, and so on.
Regardless of an applicant's qualifications, we always look for one attribute in particular -- the desire to provide high quality products with excellent customer service. We can train people how to work with clients or run pieces of equipment, but to have passion for customer service and pride for your work takes a unique individual.
If these are qualities you possess, we're sure you'll find a rewarding career with us. We supply our team with the latest technology, afford them the best training available, and provide every opportunity for growth within our company.
Current Openings
Full-Time Inside Sales Representative
Ottawa, ON
Payment Structure: Base and Commissions
We're seeking an energetic, motivated and enthusiastic sales representative.
This is a full time, inside sales position. We are looking for the right individual to join our team. This is a sales environment; you must be comfortable making cold calls, have a positive attitude and a desire to close sales. We're willing to train the right person, so your previous experience isn't as important as your work ethic. This position offers a guaranteed monthly base and an attractive commission structure and full benefits.
What we expect:
An online prospecting guru.
Cold Calling.
Capitalize on leads provided.
Identify and secure new business.
Achieve desired targets.
Build rapport and develop relationships with businesses in various industries.
Self-motivated and results-driven.
Utilize effective communication and presentation skills.
Requirements:
Minimum 5 years in Sales and/or customer service work experience.
Proficiency in Microsoft Word and Outlook an understanding of SEO and Online marketing
We thank all applicants, however only those under consideration will be contacted.
Bindery Worker
Looking to hire immediately, wage based on experience
Requirements
Organizing and maintaining inventory of all materials
Keeping inventory area organized and tidy
Various hand bindery operations including hand collate forms, booklets and binders, padding, hand folding.
Running paper drill and shrinkwrap machine and helping operators on equipment.
Have close communication with administrative and production team to meet all timelines
Develop and maintain shipping schedules
Filing paper documents
1-2 years of relevant experience.
Job Type: Part-time/On-call
Salary: Based on experience
Job Location: Carleton Place, ON
Required Education: High School Diploma
Required Experience: 2 years work experience
Required Language: English